We may earn money or products from the companies mentioned in this post. We are a participant in the Amazon Services LLC Associates Program, an affiliate advertising program designed to provide a means for us to earn fees by linking to Amazon.com and affiliated sites.
Our Chocolate Covered Oreo Roses Recipe and Princess Rose Dome Gift Set Giveaway have been sponsored by Catholic Central. All opinions are my own.
Valentine's Day conjures feelings of romance and excitement, especially if you're spending the day with your loved one. Whether you're spending the day at home, going out on the town, or even traveling somewhere special, it's a day to celebrate those we love. And chocolate covered Oreo roses are perfect for your celebration!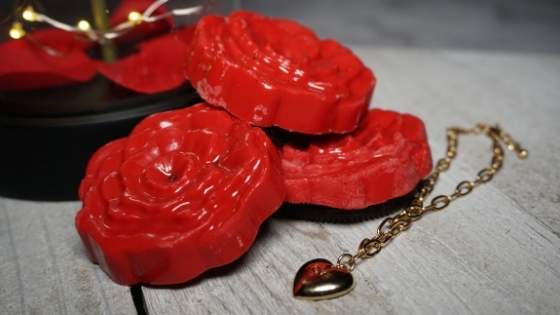 Celebrating Valentine's Day
One of my favorite Valentine memories was when my husband and I spent the week in Hawaii exploring while enjoying each other's company. We had a great time visiting Oahu; one of our favorite places was the Dole Plantation where there's so much good food, (hello, the original Dole Whip! Sorry, Disneyland), a gorgeous botanical garden, and the world's largest maze. It was so much fun, and they even had a pineapple for cheesy photos!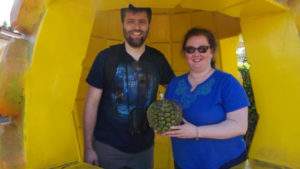 But this year, we're staying home for Valentine's Day, and we're excited to spend some time relaxing, eating some good food, and spending some time connecting.
If you're staying home too, then it's time to think about how to celebrate. It's time to set a romantic table and select some delicious chocolates. Be sure to make something sweet like our heart-shaped gummy bear sugar cookies, and of course, our chocolate covered Oreo roses.
Get the romance started with these 10 tips to Rock Valentine's Day at home
While you're at it, be sure to check out these great tips to celebrate Valentine's Day at home. Catholic Central created a great list of tips to help you make your Valentine feel extra special.
They were also kind enough to give away a delightful Princess Rose Dome gift set complete with an LED lit rose in glass dome similar to the one from Disney's Beauty and the Beast. There's even a bracelet with a "Love" charm included too. Scroll to the end to enter. It's a great gift!
Learn some trivia about St. Valentine while you're planning your romantic oasis.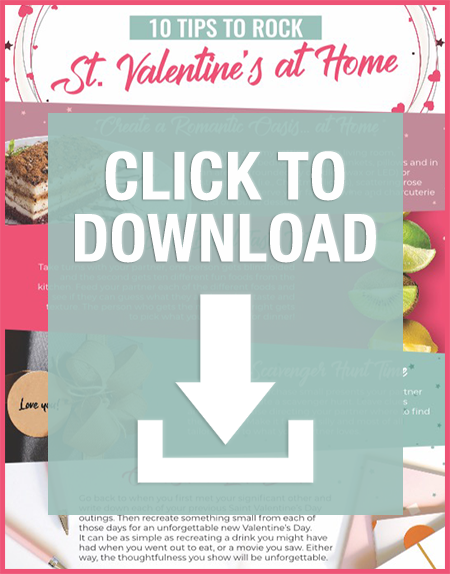 You can find more great content from Catholic Central on their YouTube channel. You may also enjoy more holiday content with their Tips for Christmas Fun in 5 Minutes.
Chocolate Covered Oreo Roses are so easy and inexpensive to make for Valentine's Day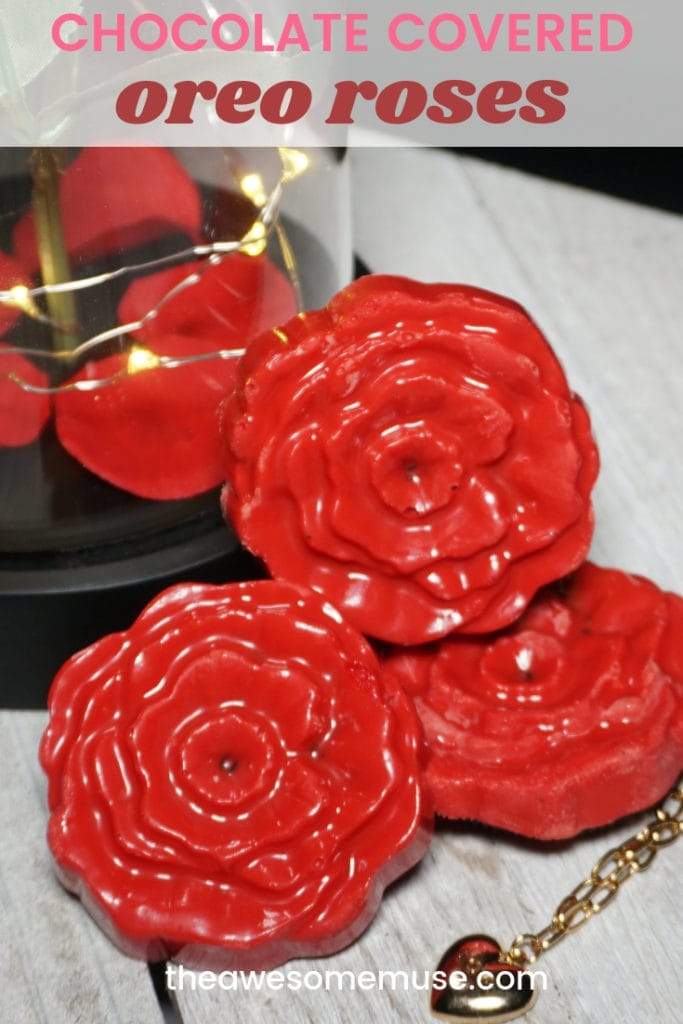 The great thing about these cookies is that they are easy to make together. Sure, you can make them ahead of time and present them as an edible arrangement, but there's also some fun in being able to stick your finger in the melted chocolate and wipe it on your loved one's nose.
What you need for the recipe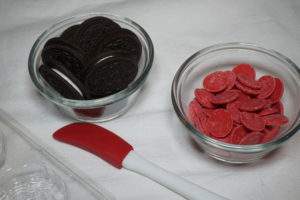 All you need to enjoy our cookie roses are Oreos, white chocolate candy melts, and a rose flower mold. The great thing about this recipe is that it comes together in a little over half an hour, has two ingredients, and costs under $10 to make a dozen.
So let's make some cookies!
How to make Chocolate Covered Oreo Roses
First you will want to melt the chocolate candy melts in a small bowl.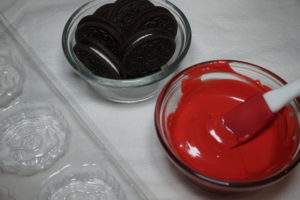 Second, pour the melted chocolate into the rose shaped candy mold. See how I've only filled the mold between half and two-thirds of the way full.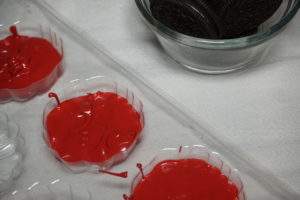 Note: If you want to make a different quantity of cookies, you'll want to use one ounce of candy melts for each cookie. I'm using a small mold, so I melted 3 ounces at a time. If you have a larger mold, or if you're using several molds at once, you can melt all of the candy at the same time.
Pro Tip: You may want to give the mold a gentle tap to make sure that the candy has spread evenly into the rose petals. I also like to smooth the top with a small spatula to make sure that the melted chocolate has spread evenly.
Next, place an Oreo in the center of the mold on top of the melted chocolate. Gently press down on the cookie to let it sink into the chocolate. Be mindful not to press so hard that the cookie reaches the mold. You don't want to be able to see the cookie through the chocolate when you remove it from the mold.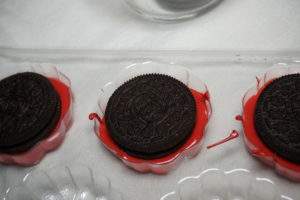 Print and Save the Recipe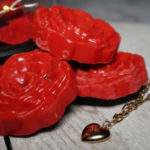 Print Recipe
Chocolate Covered Oreo Roses
Chocolate covered Oreo roses are perfect to give your Valentine as an edible arrangement. But they are also perfect to make together! They are so easy and quick to make. And you can make a dozen for less than $10!
Ingredients
12

oz

Wilton Candy Melts

red or pink

12

Oreo Cookies
Instructions
In a glass bowl, melt candy melts in the microwave according to the instructions on the package. We melted ours on defrost for about a minute, stirring halfway.

In your rose shaped candy mold, fill with candy mold about halfway to two-thirds of the way full.

Place an Oreo in the center of each chocolate-filled rose mold.

Gently press the Oreo into the chocolate so that the chocolate comes up around the sides. Be careful not to press so hard that the cookie touches the mold as you do not want the cookie to be visible from the top.

Place the mold in the refrigerator to chill for about half an hour or until the chocolate has set.

To remove the chocolate covered Oreo roses from the mold, invert the mold over a plate, give it a gentle twist, and tap the cookies onto the plate.
Notes
Please note that nutrition facts are subject to change based on your choice of ingredients.
A fun Valentine's Day Giveaway for a Princess Rose Dome Gift Set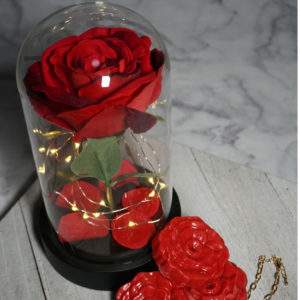 If you are a romantic, or even a Beauty and the Beast fan, you'll want to enter for a chance to win our Princess Rose Dome St. Valentine Kit courtesy of Catholic Central. It makes a great gift for your special someone or even yourself!
The Princess Rose Dome St. Valentine Love Kit includes:
1 Red Rose LED Glass Dome elegant table lamp
1 Gold tone "Love" bracelet
try it and share!
Please let us know how you enjoy our Chocolate Covered Oreo Roses recipe. If you make it yourself, please let us know on Pinterest that you tried it and tag us with #theawesomemuse on your Instagram photo. If you haven't had a chance to make it yet, be sure to save the recipe on Pinterest so you'll remember where you found it.
You may enjoy following our Pinterest Boards, Cookie Recipes and Valentine's Day Recipes.